Reading Time:
3
minutes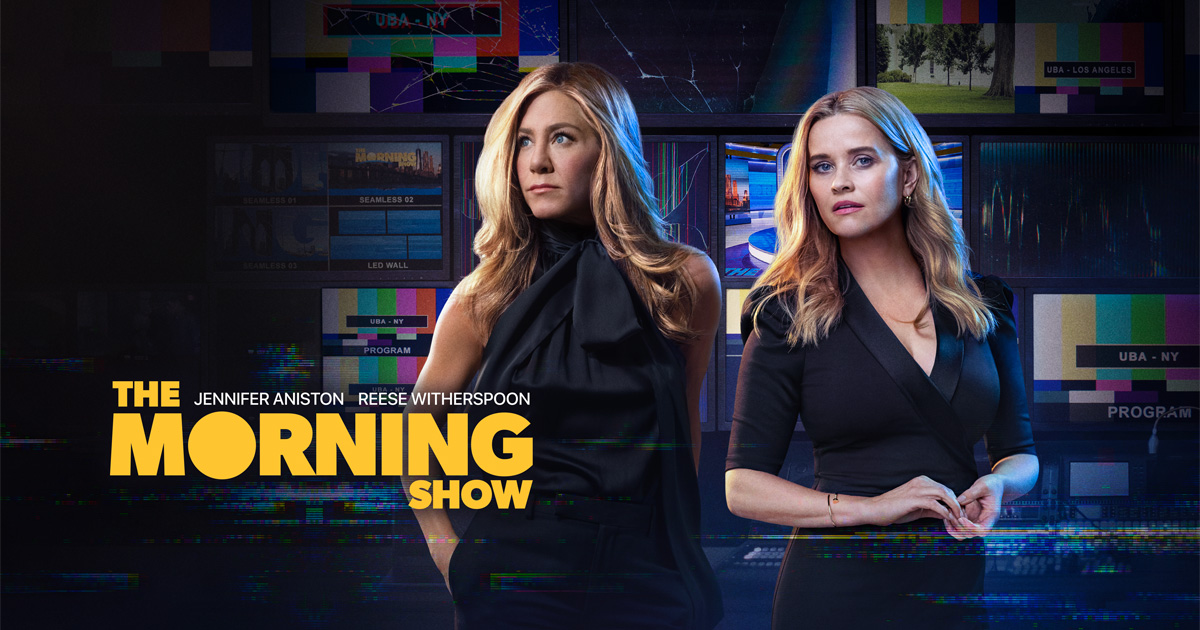 TRAMA GENERALE THE MORNING SHOW
The Morning Show è una serie tv scritta per Apple TV+ da Jay Carson e Kerry Ehrin (Friday Night Light, Bates Motel) basandosi su un libro di Brian Stelter. La serie vuole esplorare le vite delle tante persone che aiutano ogni giorno gli americani a svegliarsi la mattina, e soprattutto le dinamiche di potere tra gli uomini e le donne che lavorano nel competitivo mondo dei programmi del mattino.
La veterana di Friends Jennifer Aniston interpreta Alex Levy, l'apprezzata conduttrice di uno dei tanti morning show che popolano la programmazione televisiva americana, alla quale viene affidato il difficile compito di annunciare in diretta il licenziamento del suo co-conduttore degli ultimi quindici anni (Steve Carell, The Office), accusato di molestie sessuali.
Per voltare drasticamente pagina dopo lo scandalo, i produttori decidono di affiancare ad Alex l'aspirante giornalista Bradley Jackson (Reese Witherspoon, Big Little Lies), una donna schietta e ambiziosa, disposta a tutto pur di dire al suo pubblico soltanto la verità e nient'altro che la verità.
Quando, nel giro di poche settimane, l'indice di gradimento di Bradley supera di parecchio quello di Alex, quest'ultima si trova costretta a difendere la sua poltrona con le unghie e con i denti, mentre il suo capo (Billy Crudup, Gypsy) vuole darla in pasto ai media e rendere pubblico il suo comprensibile esaurimento nervoso. Il resto del cast include Gugu Mbatha-Raw (La ragazza del dipinto), Bel Powley (Diario di una teenager), Karen Pittman (Luke Cage), Desean Terry e Mark Duplass (The Mindy Project).
PRIMA STAGIONE SUB ITA
PRIMA STAGIONE ITA THE MORNING SHOW
SECONDA STAGIONE SUB ITA
SECONDA STAGIONE ITA
Showteller & DramaAddicted è un sito per appassionati di Serie TV.
I contenuti di questo blog includono semplici collegamenti a contenuti ospitati su altri server in rete, come ad esempio nowvideo.ec e firedrive.com, per i quali è stata effettuata generalmente una ricerca sui principali motori di ricerca (Google, Yahoo e Bing).
Il materiale è reso disponibile al solo scopo educativo, di critica, discussione e insegnamento come previsto dall' art.70 della L.d.A. n.633/1941.
Si presuppone in ogni caso che per nessuno dei contenuti ospitati si stiano violando diritti d'autore ed ogni responsabilità è declinata ai suddetti siti che sono responsabili del materiale pubblicato.
Qualora fosse necessario richiedere la rimozione di uno o più contenuti che risultino per qualsiasi motivo non in regola, è possibile (anzi è raccomandato) effettuare una segnalazione nella nostra sezione contatti.
Il nostro impegno è quello di garantire chiunque sentisse violato un proprio diritto, e ci impegniamo a rimuovere entro 24 ore i contenuti segnalati (previa verifica di validità della richiesta).
Restiamo a disposizione per ulteriori chiarimenti.

Si ringrazia per la collaborazione,
Staff.