Negli scorsi giorni vi abbiamo presentato le nuove serie TV che arriveranno tra l'autunno e la primavera prossima da FOX. Oggi è il momento di presentarvi cosa ci donerà la CBS!!
FBI: MOST WANTED –> SPINOFF DI FBI
Dal vincitore del premio Emmy Dick Wolf e dal team dietro FBI e dalla serie "Law & Order", FBI: MOST WANTED è una serie drammatica che si concentra sulla Fugitive Task Force, che rintraccia e cattura inesorabilmente i famigerati criminali sul Bureau's Most Lista ricercata L'agente stagionale Jess LaCroix (Julian McMahon) sovrintende il team altamente qualificato che funziona come un'unità mobile sotto copertura che è sempre fuori sul campo, perseguendo coloro che sono più disperati di eludere la giustizia. Dick Wolf, René Balcer, Arthur W. Forney e Peter Jankowski sono produttori esecutivi di Wolf Entertainment e Universal Television in associazione con CBS Television Studios. Fred Berner ha diretto il pilota da una sceneggiatura di Balcer.
Gli attori presenti in questa nuova serie saranno: Julian McMahon nei panni di Jess LaCroix, Alana De La Garza nei panni di Isobel Castille, Keisha Castle-Hughes nei panni di Hana Gibson, Kellan Lutz nei panni di Crosby, Roxy Sternberg nei panni di Sheryll Barnes e Nathaniel Arcand nei panni di Clinton Skye.
BROKE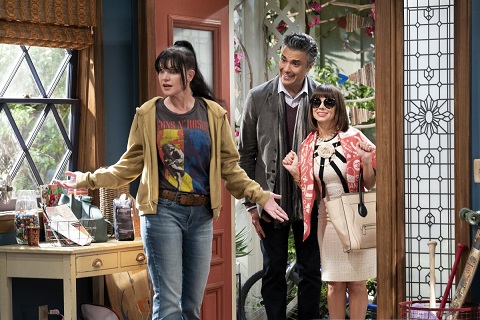 Jaime Camil e Pauley Perrette recitano in BROKE, una commedia su Jackie (Perrette), una madre single suburbana che è scioccata quando la sorella separata, Elizabeth (Natasha Leggero), il marito oltraggiosamente ricco e generoso di sua sorella, Javier (Camil), e Luis (Izzy Diaz), l'assistente / autista / amico fieramente leale di Javier, atterra sulla soglia di casa e ha bisogno di un posto dove vivere dopo che i soldi della coppia si sono asciugati. Anche se le differenze di classe possono separare le donne, e le dimensioni della casa e il numero di persone che vivono in esso metterà alla prova i limiti dei legami familiari, il legame familiare di sorellanza potrebbe essere il catalizzatore di cui hanno bisogno per ripristinare la loro relazione. Il vincitore dell'Emmy Award Alex Herschlag ("Will & Grace", "Modern Family"), Jennie Snyder Urman ("Jane the Virgin"), Joanna Klein, Ben Silverman, Jaime Camil, Guillermo Restrepo, Gonzalo Cilley e Maria Lucia Hernandez sono produttori esecutivi di CBS Television Studio / Sutton Street Prods./Propagate, con i partner creativi RCN TV e Resonant TV. Victor Gonzalez ha diretto il pilota da una sceneggiatura di Herschlag.
BROKE vede protagonisti Jaime Camil come Javier, Pauley Perrette come Jackie, Natasha Leggero come Elizabeth, Izzy Diaz come Luis e Antonio Corbo come Sammy.
THE UNICORN
La sitcom vede protagonista Walton Goggins come un recente vedovo che decide di rientrare nel mondo degli appuntamenti solo per scoprire "è un prodotto caldo". Il cast comprende anche Rob Corddry, Maya Lynne Robinson, Michaela Watkins e Omar Benson Miller.
EVIL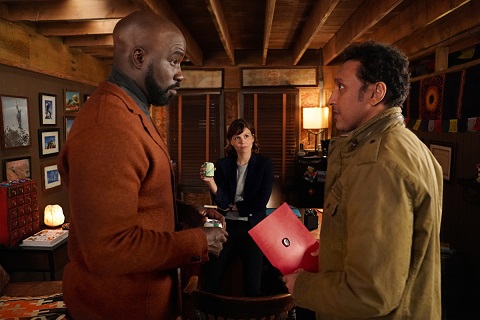 Il dramma psicologico "esamina le origini del male lungo la linea divisoria tra scienza e religione". Mike Colter, Katja Herbers, Aasif Mandvi, Michael Emerson e Brooklyn Shuck.
CAROL'S SECOND ACT
La vincitrice dell'Emmy Award Patricia Heaton recita nella nuova serie CBS, una commedia su una donna che intraprende un secondo atto unico dopo aver cresciuto i suoi figli, divorziato e ritirato dall'insegnamento: inseguendo il suo sogno di diventare un medico. All'età di 50 anni, Carol è una stagista medica e deve affondare o nuotare con i coetanei che hanno la metà della sua età. È il suo entusiasmo, la sua prospettiva e sì, persino la sua età, che potrebbe essere esattamente ciò che renderà il suo secondo atto un grande successo. Emily Halpern, Sarah Haskins; Patricia Heaton, Adam Griffin, David Hunt e Rebecca Stay (Four Boys Entertainment); Aaron Kaplan e Dana Honor (Kapital Entertainment); e Pamela Fryman (solo pilota) sono produttori esecutivi di CBS Television Studios. Fryman ha diretto il pilota da una sceneggiatura di Halpern e Haskins.
Cosa ne pensi? Quale di queste nuove serie TV ti ispira maggiormente? Fatecelo sapere lasciandoci un commento!!
COME SEMPRE VI RICORDO DI CONTINUARE A SEGUIRCI SULLA NOSTRA PAGINA FACEBOOK
SHOWTELLER & DRAMAADDICTED
Articolo preso e tradotto da tvseriesfinale.com