Il finale della seconda stagione di The Good Doctor è iniziato con il dottor Shaun Murphy in un posto orribile. All'inizio della puntata, abbiamo visto Shaun litigare in un bar con un altro uomo che era chiaramente sconvolto: se bevi alle dieci del mattino, sai che qualcosa è terribilmente sbagliato.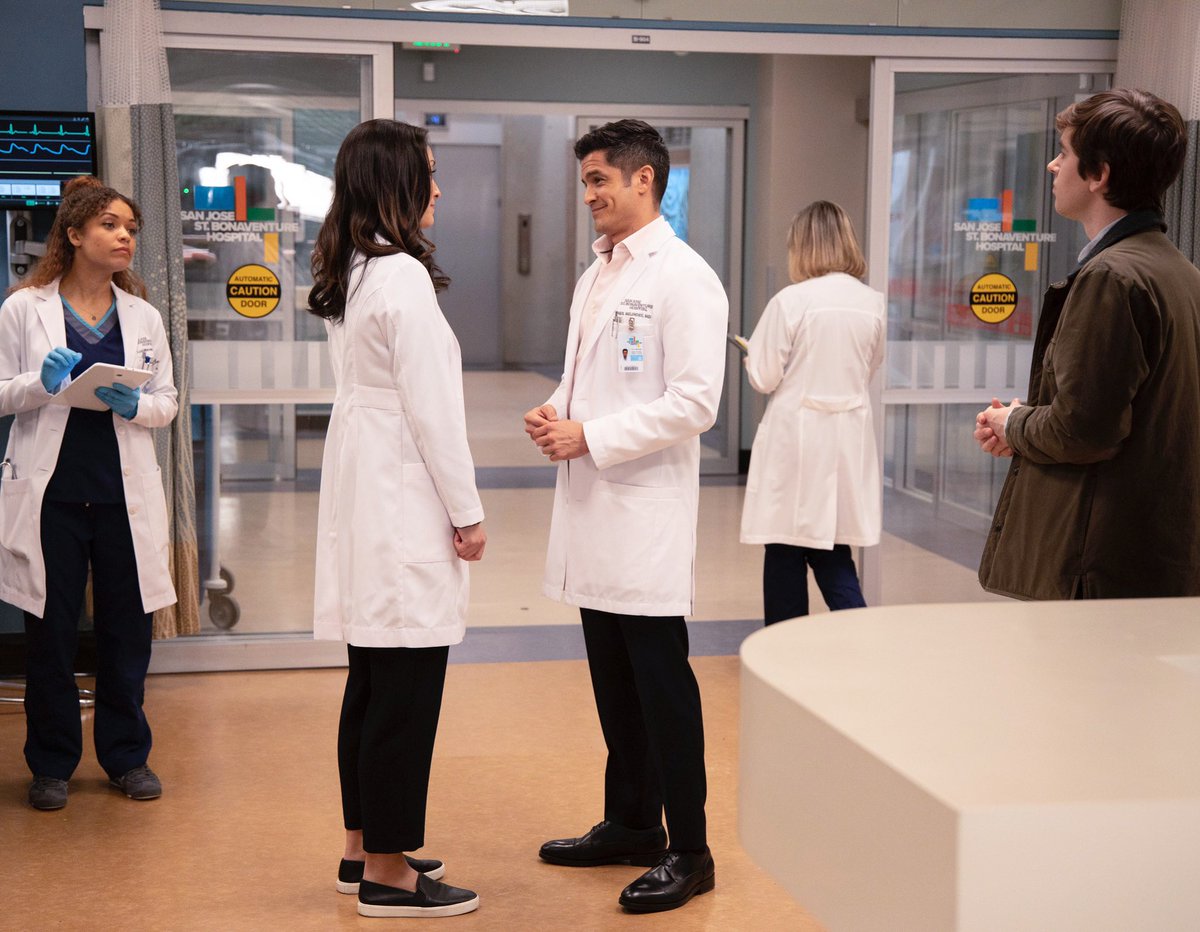 All'indomani di ciò, era chiaro che c'era qualcosa di sbagliato in Shaun. Stava lottando in un modo che di solito non è, e non è stato solo lui a lottare perché ha perso il lavoro. Ci sono stati effetti indesiderati del combattimento che si è abbattuto su di lui, ma non è stato fino alla metà del finale quando abbiamo iniziato a capire quale fosse la sua terribile condizione.
Poi, c'era anche la questione del ragazzo che ha iniziato a picchiarlo. Perché Shaun è ancora un dottore (anche se non era al momento impiegato), voleva ancora aiutarlo. Ha fatto le sue ricerche, ha monitorato il paziente e alla fine è stato in grado di capire esattamente cosa c'era di sbagliato in lui. Il problema? Nessuno era in giro per sentirlo prima che svenisse dicendo – "Trampoline" era l'unico indizio e, a ragione, era il titolo dell'episodio. Dopo che Shaun è svenuto, è diventata la responsabilità degli altri medici scoprire cosa fosse esattamente sbagliato.
Qui è dove celebriamo la brillantezza della dottoressa Claire Browne. Forse non aveva capito subito cosa stava succedendo al paziente, ma alla fine è stata in grado di capirlo – poteva avere un aneurisma mortale e per questo motivo, aveva bisogno di essere curato immediatamente. Quando Shaun si sveglia, non c'era niente che doveva fare se non riposare.
Shaun potrebbe riavere il suo lavoro?
Dall'altra parte della sua crisi medica, questo era ancora un problema che persisteva. Il Dr. Andrews voleva riportarlo indietro e stava spingendo affinché il Dr. Han per farlo accadere. Il problema purtroppo è che al Dr. Han non importava. A quanto pare ha conosciuto qualcun altro nella sua vita che era nello spettro dell'autismo e quella persona è morta. Voleva che il dottor Murphy facesse un lavoro in un modo che gli andava bene e Shaun no.
Alla fine, il problema si ridusse a questo: se il dottor Han sarebbe rimasto o sarebbe stato il dott. Murphy. Il dottor Andrews rischiava di sembrare sciocco nel licenziare il Dr. Han dopo aver fatto un grosso investimento in lui, ma è andato avanti e lo ha fatto comunque. Ora, la carriera del dott. Andrews è a rischio e non gliene importa davvero.
Quindi, con il dottor Han andato, questo ha posto un'altra importante domanda: chi sarebbe stato il nuovo capo della chirurgia? Mentre il dottor Melendez si è reso conto che potrebbe impedire il suo rapporto con la Dr.ssa Lim, ha comunque lottato per lei per ottenere il lavoro … e lo ha fatto!
La fine della storia
Nei minuti finali del finale, abbiamo visto il Dr. Murphy che sfoggiava il suo miglior vestito e con quello pensavamo che avrebbe chiesto a Lea di uscire. Non era esattamente il caso. Invece, ha chiesto a Carly di uscire! Ha assistito Shaun durante il suo periodo in patologia, e sembra che i due abbiano un futuro insieme. (Visto quello che abbiamo visto un po' prima nell'episodio, in realtà pensavamo di stare preparando qualcosa con Shaun e Lea verso la fine – ma a noi piace l'idea di Carly dato che è una persona nuova.)
Per il dottor Glassman, sembra che la sua vita sentimentale stia tornando in pista! Quel monologo tra lui e Debbie Wexler alla fine dell'episodio è stato straordinario, dolce e speciale. Si è conclusa con lui proponendole di sposarlo e lei ha detto di si! Questo apre la strada potenzialmente per un futuro dolce e romantico … uno che siamo entusiasti di vedere.
Commento personale alla puntata
Nel complesso è stato un buon episodio meglio di quello che mi aspettassi sinceramente!! Sono molto felice per Shaune Carly, io li vedo proprio bene insieme. Lea finalmente ha capito che ha tirato troppo la corda e che Shaun alla fine non era un così brutto partito, però lui è maturato davvero tanto e ha capito che nella vita bisogna andare sempre avanti. Sono curiosa di vedere come andrà la storia tra Melendez e Lim ora con tutte queste carte mischiate. Voi cosa ne pensate?
Grazie per aver seguito anche quest'anno con noi la seconda stagione di The Good Doctor ci vediamo quest'autunno con la season 3!!
COME SEMPRE VI RICORDO DI CONTINUARE A SEGUIRCI SULLA NOSTRA PAGINA FACEBOOK
SHOWTELLER & DRAMAADDICTED