Reading Time:
2
minutes
Articolo preso e tradotto da whats-on-netflix.com
The Chair è una serie drammatica Netflix di prossima uscita creata da Amanda Peet ( The Romanoffs ), suo marito David Benioff e il suo partner di lavoro Dan Weiss. Ecco cosa sappiamo finora della serie che probabilmente arriverà su Netflix alla fine del 2021 o all'inizio del 2022.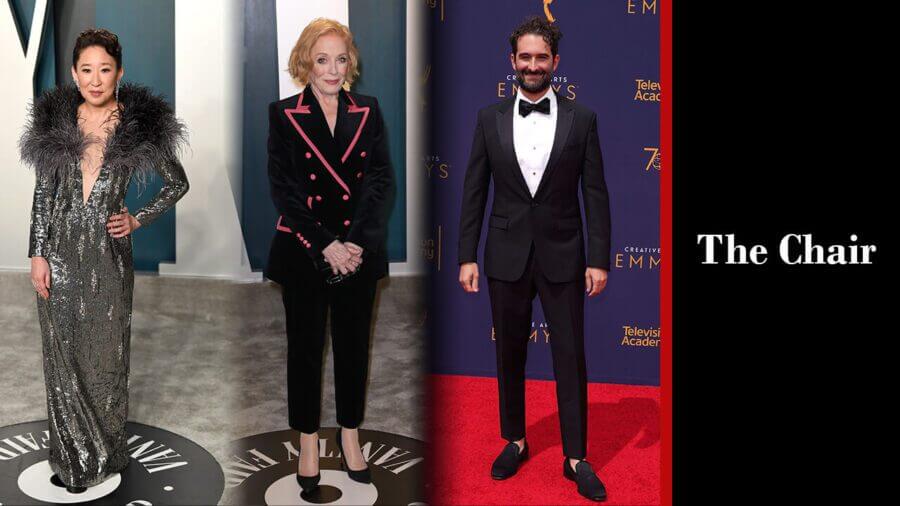 Trama Ufficiale
La trama di The Chair è tenuta in gran parte nascosta, ma è stato rivelato che Ji-Yoon (Oh) è la prima donna presidente del dipartimento di inglese alla Pembroke University e deve affrontare grandi aspettative. La professoressa Joan Hambling (Taylor), una professoressa di inglese spiritosa e senza fronzoli che lavora nel dipartimento è la sua amica e confidente. Anche se questo dà molto poco, possiamo essere certi che la serie esplorerà le difficoltà di Ji-Yoon essendo la prima donna asiatica ad avere una posizione così alta in quel reparto, oltre a fornire molti momenti comici lungo la strada.
Il Cast
Del cast, come anche della trama, non si sa ancora molto. Per ora sono comparsi solo tre nomi: quello appunto di Sandra Oh che sarà anche produttrice esecutiva, nonché protagonista della serie. Verrà affiancata poi dallo scrittore e attore Jay Duplass e anche dalla vincitrice del Primetime Emmy Holland Taylor.
Numero di Episodi, Stato della Produzione & Possibile Data D'uscita
Saranno previsti sei episodi da mezz'ora e le riprese sono previste per il primo febbraio 2021. Per quanto riguarda una possibile data d'uscita, dato che sono solo sei episodi da mezz'ora la produzione sarà molto semplice  e la serie non richiederà molti effetti grafici in post-produzione, quindi se tutto va secondo il programma, c'è un possibilità che The Chair venga pubblicato su Netflix entro la fine del 2021.
Unitevi alla nostra community su Facebook per parlare con noi e con altri amanti delle serie TV !! Vi aspettiamo numerosi