Reading Time:
3
minutes
Fonte: whats-on-netflix.com
Dopo vari ritardi nelle riprese, abbiamo finalmente la conferma che il thriller horror Netlfix Original Night Teeth arriverà su Netflix questa stagione di Halloween 2021. Ecco tutto ciò che sappiamo finora su Night Teeth, inclusi trama, cast, produzione e data di uscita.
Night Teeth è un thriller originale Netflix in uscita scritto da Brent Dillon e diretto da Adam Randall. Dietro la produzione di Night Teeth ci sono Unique Features e 42, l'ultimo dei quali Netflix ha un accordo di prima occhiata .
42 ha lavorato con Netflix nel thriller In the Shadow of the Moon. Adam Randall, il regista di Night Teeth , ha lavorato in precedenza al film di fantascienza originale, iBoy , con l'attrice di Game of Thrones , Maisie Williams.
Qual è la trama di night teeth?
La seguente sinossi è stata fornita da Netflix:
Per guadagnare qualche soldo in più, l'eccentrico studente universitario Benny si esibisce come autista per una notte. Il suo compito: guidare due misteriose giovani donne in giro per Los Angeles per una notte di feste. Preso dal fascino dei suoi clienti, scopre presto che i suoi passeggeri hanno i loro piani per lui e un'insaziabile sete di sangue. Mentre la sua notte va fuori controllo, Benny viene catapultato nel mezzo di una guerra clandestina che contrappone tribù rivali di vampiri contro i protettori del mondo umano, guidati da suo fratello, che non si fermerà davanti a nulla pur di rimandarli nell'ombra. Con l'alba che si avvicina rapidamente, Benny è costretto a scegliere tra paura e tentazione se vuole rimanere in vita e salvare la Città degli Angeli.
---
Chi sono i membri del cast?
I seguenti membri del cast sono stati confermati per recitare in Night Teeth :
| Ruolo | Membri del cast | Dove lo hai già visto prima? |
| --- | --- | --- |
| Blaire | Debby Ryan | Insatiable, Sign It!, Jessie |
| Victor | Alfie Allen | John Wick, Game of Thrones, The Predator |
| Zoe | Lucy Fry | Bright, 11.22.63, Mr. Church |
| Jay Perez | Raúl Castillo | We the Animals |
| Benny | Jorge Lendeborg Jr. | Brigsby Bear, The Land, Spider-Man: Homecoming |
| Abuela | Marlene Forte | Fear the Walking Dead, A Haunted House, Superstore |
| Eva | Sydney Sweeney | Charlie's Angels | The Girl in the Spider's Web | Booksmart |
| TBA | Bryan Batt | Mad Men | 12 Years a Slave | Jeffrey |
| TBA | Megan Fox | Transformers | Teenage Mutant Ninja Turtles | Jennifer's Body |
| TBA | Alexander Ludwig | Vikings | The Hunger Games | Lone Survivor |
| Maria | Ash Santos | Good Joe Bell | American Horror Story | Relationship Status |
| Daniel | Hunter Blake | Sweet Magnolias | The Big Short | Claws |
| Kaleb | Martin Bats Bradford | Tales from the Hood 2 | NOLA Circus | Venom |
| Martin | Chase Yi | Dave | 9-1-1 | Wandavision |
Night Teeth sarà il secondo Netflix Original per le attrici Debby Ryan e Lucy Fry . Il thriller sarà il primo Netflix Original per la star di Game of Thrones Alfie Allen.
---
Qual è lo stato di produzione?
Stato di produzione ufficiale: Post produzione (ultimo aggiornamento: 06/09/2021)
Le riprese di Night Teeth erano originariamente programmate per iniziare il 3 febbraio e dovrebbero durare fino al 3 aprile 2020, tuttavia, il film è stato travolto dai numerosi ritardi che le produzioni Netflix hanno dovuto affrontare.
A settembre 2020, abbiamo appreso che un'ulteriore ripresa doveva svolgersi alla fine di settembre, il 22 settembre.
Le location per le riprese sono state segnalate a New Orleans, Louisana e Los Angeles, in California.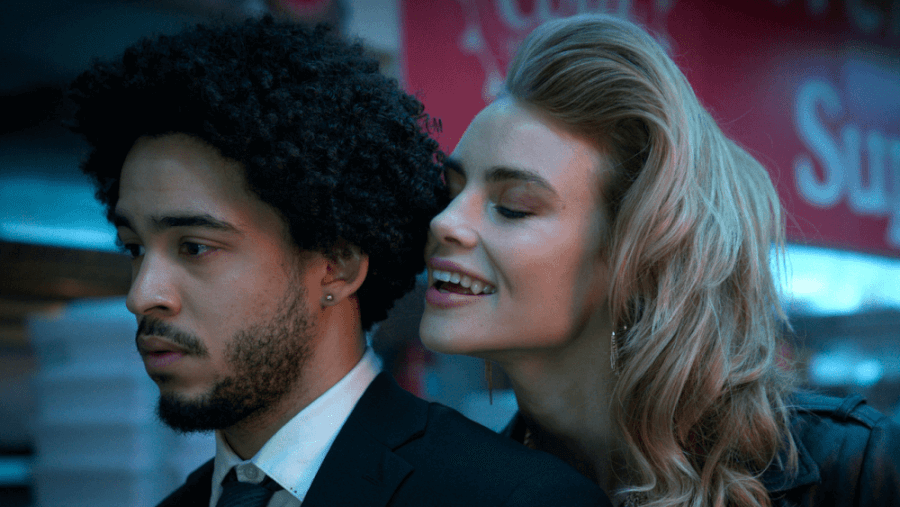 Quando è la data di uscita?
Se non fosse per i ritardi nelle riprese a causa della pandemia globale, Night Teeth potrebbe aver già visto la sua uscita su Netflix. Tuttavia, Netflix ha ora confermato che Night Teeth arriverà giusto in tempo per Halloween giovedì 20 ottobre 2021.
Unitevi alla nostra community su Facebook per parlare con noi e con altri amanti delle serie TV !! Vi aspettiamo numerosi