Ultimamente Netflix mi ha regalato veramente poche gioie, ma in generale le serie tv, portandomi spesso a non finire episodi e di conseguenza stagioni, ma dopo una lunga serie di amare delusioni ho trovato per l'appunto su Netflix " Le Ragazze dell'Hockey" una serie tv spagnola, forse troppo poco pubblicizzata ma decisamente un gioiellino come solo gli spagnoli ultimamente sanno fare.
LA TRAMA
Al centro della storia troviamo sette giovani sportive: Emma, Laila, Rachel, Flor, Lorena, Berta e Gina. Loro sono le componenti della squadra femminile di hockey su rotelle, il Club Patí Minerva.
Decisamente discriminate dalla società rispetto alla squadra maschile dovranno dimostrare di essere abbastanza determinate da riuscire a vincere il campionato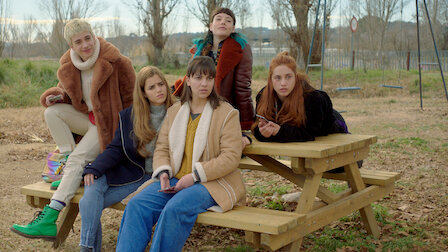 PERCHÈ CI PIACE…
Sull'onda mediatica di Skam, ogni personaggio ha un account instagram e ogni episodio è narrato da un personaggio diverso, ognuno con le proprie peculiarità e le proprie storie, ci trascinano per tutta la stagione, facendoci sognare, piangere, ridere insieme a loro.
Saranno gli amori, le sfide, le delusioni scottanti, o forse semplicemente quel femminismo mai nascosto, le scoperte, ma anche le storie degli adulti che seppur di contorno guidano insieme alle ragazze questa storia, lasciandoti dipendente dall'episodio seguente, sino al finale di stagione.
I temi trattati sono tra i più svariati: la fine della carriera, il divorzio, l'aborto, la procreazione medicalmente assistita, l'affido, la scoperta dei nuovi amori, l'omosessualità, la sessualità, ma troviamo anche la crisi economica, l'amore tra gli adulti ( che spesso nei teen drama viene poco approfondito). Insomma è il mix per uno show perfetto.
"Le Ragazze dell'Hockey" è uno spaccato di realtà che purtroppo nel 2019 ci ricorda che se sei donna devi dimostrare il doppio. Sempre.
Ma come direbbe Taylor Swift: Cause if I was a man, then I'd be the man. Ma queste ragazze sono molto di più. Sono le donne di domani, abbastanza forti da non farsi intimidire dalla minaccia di perdere una partita.
Insomma non è che gli europei stanno di nuovo tornando a conquistare il mondo?
COME SEMPRE VI RICORDO DI CONTINUARE A SEGUIRCI SULLA NOSTRA PAGINA FACEBOOK SHOWTELLER & DRAMAADDICTED