Questa settimana a Good Trouble ci siamo presi una pausa dal lavoro e ci siamo concentrati sulla vita amorosa della Coterie, soprattutto quella delle ragazze!!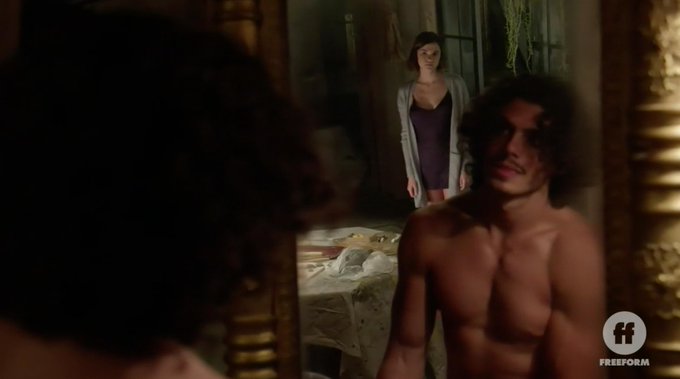 Quindi questo episodio di Good Trouble è stato davvero interessante e piuttosto divertente. Mariana, Davia, Alice e Malika decidono di scegliere i loro appuntamenti l'una per l'altra usando un'app di appuntamenti che onestamente mi sembra davvero divertente. 
L'esito di questi appuntamenti ha diversi gradi di successo, ma lo rende un episodio divertente e interessante. Alice va davvero d'accordo con il suo appuntamento e si divertono molto fino a quando Sumi non si fa vedere al culmine della serata a The Coterie perché lei e Meera hanno litigato enormemente e hanno deciso di annullare il matrimonio, quindi Sumi ha bisogno del sostegno di Alice. Il giorno dopo Meera chiama Sumi e tornano insieme e mi sento così dispiaciuta per Alice perché è troppo carina e non merita di essere trattata nel modo in cui Sumi la tratta.
L'appuntamenti di Davia, Paul, non è una persona con cui uscire di solito, ma quando scopre che Jeff le ha mentito per non andare a LA questo fine settimana, decide di vendicarsi facendo sesso con Paul. In seguito racconta a Malika e Mariana che ha ufficialmente chiuso con Jeff.
Mariana ha un appuntamento con il ragazzo più superficiale che tu possa immaginare. Onestamente non potevo smettere di ridere perché era semplicemente ridicolo quanto questo ragazzo amasse se stesso. Ad ogni modo, Mariana finisce con un altro ragazzo e la sua ragazza a casa con loro e finiscono per avere un rapporto a tre. 
Non mi aspettavo che succedesse, ma l'ho capito quando Mariana ha spiegato a Callie in seguito perché ha deciso di fare un trio. Il ragazzo che Malika voleva frequentare non ha finito per apprezzare la sua immagine nell'app, ma si è fatto vedere al bar dove tutte le ragazze avevano il loro appuntamento e Malika lavora. Cerca di flirtare con lei ma lei lo mette alle strette poi gli dice che non vuole un ragazzo che le scriva senza pensarci. Si scusa e lo fa con lei, e finiscono per passare una bella serata.
Callie e Gael decidono di non vedersi durante il weekend perché Gael ha bisogno di lavorare sulla sua arte e Callie ha bisogno di studiare da quando Rebecca l'ha appena superata. Questo non vedersi l'un l'altro non va bene per Callie e Gael e finiscono per stare di nuovo insieme. Alla fine dell'episodio decidono che forse dovrebbero smettere di vedersi. Sinceramente non so come sentirmi perché so che le loro situazioni sono così complicate ma vedo anche quanto si preoccupino l'una dell'altro quindi è abbastanza difficile per me decidere cosa voglio. 
Mi piace molto anche Callie con Jamie quindi non so cosa voglio per lei in questo momento, ma penso che sia bello che lei si concentri sulla sua carriera perché come spettatori e fan di The Fosters, sappiamo quanto sia important per Callie la carriera.
Commento personale alla puntata
Nel complesso è stato un buon episodio. Forse rispetto agli altri è stato un po' lento e la storia degli appuntamenti è stata si divertente però devo essere sincera mi è mancata molto la parte più lavorativa di Mariana e Callie. Voi cosa ne pensate?