Reading Time:
3
minutes
Articolo preso e tradotto da whats-on-netflix.com
Netflix ha chiarito le sue intenzioni di voler creare drammi fantasy epici che possono essere amati dagli abbonati di tutto il mondo. E Cursed è una di quelle serie TV, e sta arrivando quest'estate!!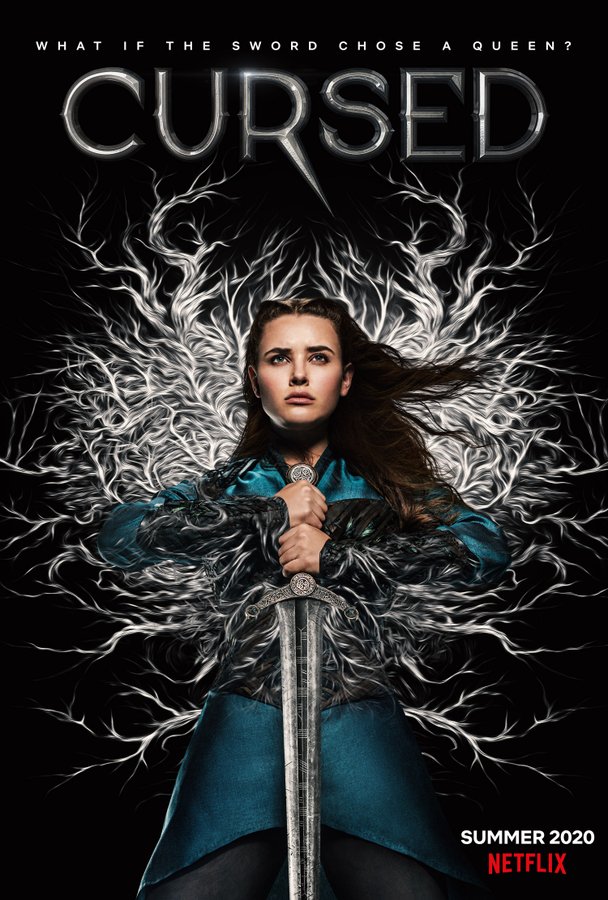 Cursed è una serie Netflix originale in arrivo basata sul romanzo illustrato YA con lo stesso nome di Tom Wheeler. Le illustrazioni sono state disegnate da Frank Miller. Entrambi fungono da autori della serie Netflix e fungeranno anche da produttori esecutivi. Mentre per quanto riguarda la regia è stata divisa tra tre registi, Jon East (Killing Eve), Zetna Fuentes (One Life to Live), Daniel Netthiem (The Hunter).
Quando è prevista la data di uscita per Cursed ?
Grazie a un aggiornamento di Netflix su Twitter, ora abbiamo la conferma che Curse arriverà in estate.
Un account di fan ha anche affermato che la data di uscita sarà venerdì 17 luglio 2020!
Dopo aver contattato Netflix per maggiori dettagli, la data di uscita è stata rivelata dallo spagnolo Cosmopolitan. Abbiamo cercato conferma da Netflix, ma sembra che Cursed sarà qui molto presto.
In precedenza avevamo riferito che Cursed sarebbe arrivato su Netflix nella primavera del 2020 dopo che lo streamer online aveva citato una data di rilascio nella primavera 2020 sulla pubblicità del libro per l'adattamento della serie.
Qual è la trama di cursed?
La serie viene raccontata attraverso gli occhi di Nimue, una giovane eroina ribelle adolescente il cui destino sta nell'aiutare Arthur, un giovane mercenario a salire al trono di Camelot. Dopo la morte di sua madre, Nimue chiede aiuto ad Arthur nella sua ricerca per consegnare un'antica e potente spada a Merlino il Mago.
Chi vedremo in cursed?
I membri del cast confermati sono i seguenti:
| Ruolo | Membro del cast | Dove lo abbiamo già visto? |
| --- | --- | --- |
| Nimue | Katherine Langford | Love, Simon | 13 Reasons Why | Knives Out |
| King Arthur | Devon Turell | Barry | Ophelia | The Professor |
| Merlin | Gustaf Skarsgard | Vikings | Westworld | The Way Back |
| Rugen The Leper King | Ólafur Darri Ólafsson | Murder Mystery | Trapped | The Meg |
| Cumber the Ice King | Jóhannes Haukur Jóhannesson | Alpha | Atomic Blonde | Game of Thrones |
| Red Spear | Bella Dayne | Troy: Fall of a City | Sex, Guaranteed | Plebs |
| Bu'Luf | Perry Fitzpatrick | This Is England '86 | All the Devil's Men | Weekender |
| Gawain | Matt Stokoe | Bodyguard | Jamestown | Misfits |
| Isma | Natasha Culzac | Men in Black: International | The Strangers | |
| Josse | Tobi King Bakare | Temple |
| Yeva | Olwen Fouéré | The Survivalist | Mandy | This Must Be the Place |
| Druna | Jennifer Saayeng | Summer of Rockets | Vera | Emerald City |
I membri del cast con ruoli non confermati sono i seguenti:
| Ruolo | Membro del cast | Dove lo abbiamo già visto? |
| --- | --- | --- |
| TBA | Sebastian Armesto | Harlots | Pirates of the Caribbean: On Stranger Tides | Marie Antoinette |
| TBA | Shalom Brune-Franklin | The State | Bad Mothers | Our Girl |
| TBA | Emily Coates | Flack | Warren | Ackley Bridge |
| TBA | Billy Jenkins | The Crown | Holmes & Watson | Humans |
| TBA | Peter Mullen | Ozark | Tyrannosaur | The Magdalene Sisters |
| TBA | Lily Newmark | Pin Cushion | Juliet, Naked | Sex Education |
| TBA | Daniel Sharman | Immortals | The Collection | Teen Wolf |
| TBA | Catherine Walker | A Dark Song | Leap Year | Patrick's Day |
| TBA | Adaku Ononogbo | Jessica Jones | Dietland | Shankman's |
A che punto e' la produzione?
Le riprese sono terminate alla fine di settembre 2019 ed erano in corso da marzo 2019.
Durante le riprese sono state utilizzate più location, tra cui Frensham Little Pond a Frensham, Albury Park nel Surrey, Bradford-on-Avon e Clearwell Caves nella Foresta di Dean.
La serie è stata sottoposta a un lungo processo di post-produzione, ma con la data di uscita prevista per la primavera, dovrebbe essere nelle fasi finali. 
Quanti episodi avra' cursed?
È stato confermato che Cursed avrà dieci episodi per la prima stagione. Questa è la quantità tipica di episodi ordinati da Netflix per le sue serie originali. E ogni episodio dovrebbe durare all'incirca dai cinquanta ai sessanta minuti.
Cosa ne pensi? Guarderai questa nuova serie TV Netflix? Hai letto il libro? Fatecelo sapere lasciandoci un commento!!
Unitevi alla nostra community su Facebook per parlare con noi e con altri amanti delle serie TV !! Vi aspettiamo numerosi