Reading Time:
2
minutes
Articolo preso e tradotto da tvline.com
CBS a differenza di The CW intende offrire ai suoi telespettatori le sue serie TV nel loro solito periodo stabilito. Cosa ne pensate?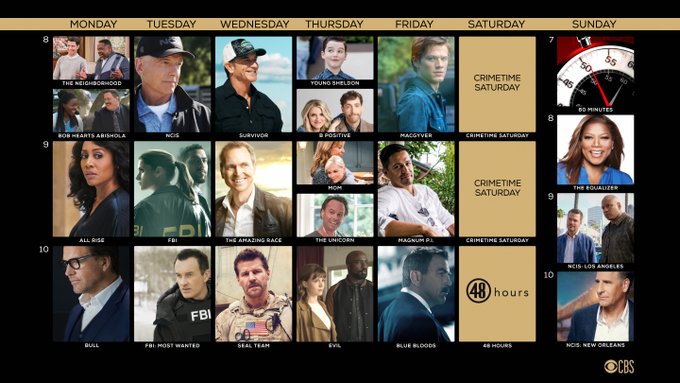 CBS è infatti l'ultima rete (che segue Fox e The CW) a svelare il suo piano di gioco, sulla sua programmazione autunnale, in ritardo per il coronavirus per la stagione TV 2020-21, e sembra che la rete Eye stia adottando un approccio come al solito.
I grandi spostamenti
Sebbene la CBS non stia dicendo quando verrà lanciata esattamente la sua nuova stagione, il semplice fatto che il suo nuovo programma molto stabile sia stato fatturato come una lineup "autunnale" suggerisce che i dirigenti hanno in mente un calendario un po' ottimistico per il riavvio della produzione.
La nuova stagione ritardata di The Amazing Race seguirà Survivor il mercoledì, portando SWAT a metà stagione.
La nuova sitcom B Positive di Chuck Lorre hail suo posto dopo Young Sheldon di giovedì, facendo slittare The Unicorn alle 9:30.
Il reboot di Equalizer con Queen Latifah seguirà 60 Minutes la domenica, in sostituzione di God Friended Me cancellato.
La nuova serie di sequel di Silence of the Lambs Clarice arriverà a metà stagione.
Ma ecco come si presenta al solito la programmazione CBS
MONDAY
8 pm The Neighborhood
8:30 pm Bob Hearts Abishola
9 pm All Rise
10 pm Bull
TUESDAY
8 pm NCIS
9 pm FBI
10 pm FBI: Most Wanted
WEDNESDAY
8 pm Survivor
9 pm The Amazing Race
10 pm SEAL Team
THURSDAY
8 pm Young Sheldon
8:30 pm B POSITIVE (CLICCA PER VEDERE IL TRAILER)
9 pm Mom
9:30 pm The Unicorn
10 pm Evil
FRIDAY
8 pm MacGyver
9 pm Magnum P.I.
10 pm Blue Bloods
SATURDAY
8 pm Crimetime Saturday (drama series encores)
9 pm Crimetime Saturday (drama series encores)
10 pm 48 Hours
SUNDAY
7 pm 60 Minutes
8 pm THE EQUALIZER
9 pm NCIS: Los Angeles
10 pm: NCIS: New Orleans 
Cosa ne pensi? Quali di queste serie CBS segui? Sei contento del fatto che sembri che la programmazione CBS sia come al solito? Fatecelo sapere lasciandoci un commento!!
Unitevi alla nostra community su Facebook per parlare con noi e con altri amanti delle serie TV !! Vi aspettiamo numerosi