Categoria: For The People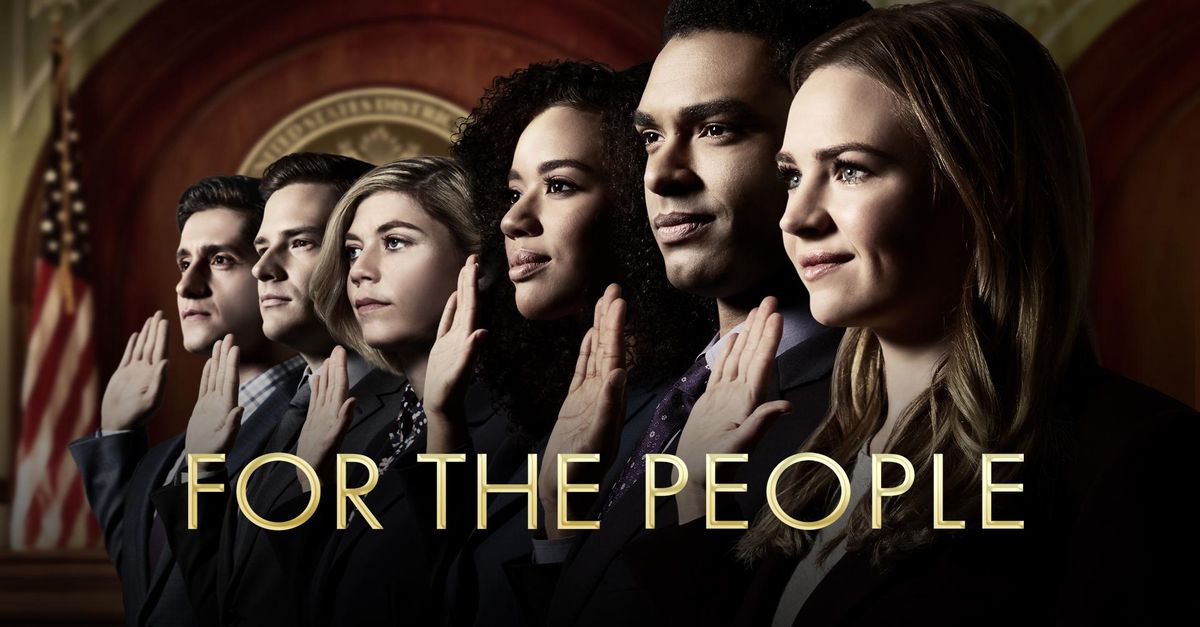 For the People è una Serie TV di genere drammatico del 2018, ideata da Paul William Davies, con Britt Robertson e Jasmin Savoy Brown. Prodotto da ABC Studios. For the People è ancora in lavorazione. È stata prodotta una stagione.
TRAMA
Nel Distretto Meridionale della Corte Federale di New York, sei giovani avvocati di talento lavorano sui lati opposti della legge – l'accusa e la difesa – occupandosi dei casi federali più eclatanti del paese, mentre le loro vite si intrecciano dentro e fuori la più prestigiosa corte di giustizia americana. Le grandi amiche Sandra Bell e Allison Adams lavorano come difensori pubblici al fianco di Jay Simmons e del loro capo, Jill Carlan. Il gruppo è solito scontrarsi con i procuratori Seth Oliver, Leonard Knox, Kate Littlejohn e il loro supervisore Roger Gunn, a capo della Sezione Penale della Procura. Spetta al giudice Nicholas Byrne l'ultima parola sui casi controversi che affrontano quotidianamente, mentre Tina Krissman mantiene l'ordine nella corte.
PRODUZIONE
GENERE: Drammatico
IDEATORE: Paul William Davies
ATTORI: Britt Robertson, Jasmin Savoy Brown, Ben Rappaport, Susannah Flood, Wesam Keesh, Regé-Jean Page, Ben Shenkman, Hope Davis, Vondie Curtis-Hall
ANNO: 2018
PAESE: USA
PRODUZIONE: ABC Studios
DURATA: 43 Min
STATO: In Lavorazione
In un primo momento, la produzione aveva scelto le attrici Britne Oldford e Lyndon Smith per i ruoli di Sandra Bell e Allison Anderson (inizialmente Sandra Black e Allison Anderson), sostituite dopo le riprese dell'episodio pilota da Britt Robertson e Jasmin Savoy Brown rispettivamente. Mentre le scene che le coinvolgevano sono state rigirate, nel settembre del 2017, dopo il completamento del secondo episodio, la produzione ha deciso di sospendere temporaneamente le riprese al fine di riscrivere le sceneggiature esistenti per meglio adattarle alla dinamica tra le due nuove attrici.
For the People è prodotta tra gli altri da Shonda Rhimes e dalla sua Shondaland. La sceneggiatrice e produttrice esecutiva è famosa per aver creato serie di successo come Grey's Anatomy e Scandal, ed è anche tra i produttori dell'altrettanto apprezzata Le regole del delitto perfetto.
© www.comingsoon.it
La vera bellezza di For The People è la loro capacità di dare a tutti personaggi una vera rilevanza e...
Continua »
Siamo arrivati a tre episodi dalla fine di questa seconda stagione e la puntata di questa settimana ci ha regalato...
Continua »
La scorsa puntata di For the People non è spiccata per un caso particolare, ma bensì per una questione razziale...
Continua »