Categoria: Shadowhunters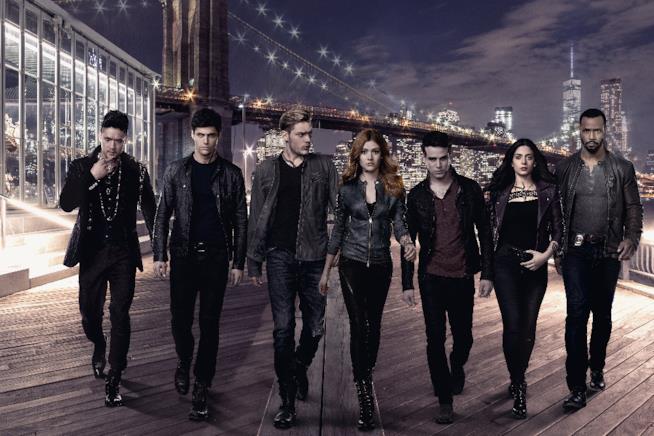 Shadowhunters è una Serie TV di genere fantasy del 2016, ideata da Ed Decter, con Katherine McNamara e Dominic Sherwood. Prodotto da Constantin Film. Shadowhunters è ancora in lavorazione. Sono state prodotte 3 stagioni.
TRAMA
Dopo aver assistito a un omicidio ed essere stata attaccata da un demone, la 18enne Clary Fray scopre nel giorno del suo compleanno che non è chi pensava di essere, bensì la discendente di un'antica stirpe di Shadowhunter – ibridi uomo-angelo nati per dare la caccia alle oscure forze soprannaturali. Quando sua madre, Jocelyn, scompare, Clary si ritrova catapultata in un pericoloso nuovo mondo insieme con l'affascinante cacciatore di demoni Jace e il suo migliore amico Simon. Circondata da fate, stregoni, vampiri e lupi mannari, Clary comincia un viaggio alla scoperta di sé, imparando cose del suo passato e di ciò che il futuro ha in serbo per lei che non avrebbe mai immaginato.
PRODUZIONE
GENERE: Fantasy
IDEATORE: Ed Decter
ATTORI: Katherine McNamara, Dominic Sherwood, Alberto Rosende, Matthew Daddario, Emeraude Toubia, Harry Shum Jr., Isaiah Mustafa, Alisha Wainwright
ANNO: 2016
PAESE: USA
PRODUZIONE: Constantin Film
DURATA: 42 Min
STATO: In Lavorazione
Shadowhunters di Freeform è l'adattamento televisivo dei romanzi fantasy della saga The Mortal Instruments (pubblicata in Italia con il titolo Shadowhunters) scritti dall'autrice statunitense Cassandra Clare e pubblicati a partire dal 2007. Il primo volume, Shadowhunters: Città di ossa, era stato già portato sullo schermo nel 2013, con il film omonimo di Harald Zwart, ma l'iniziativa non suscitò l'interesse sperato, provocando la cancellazione dei successivi capitoli del franchise. Tuttavia, l'anno successivo Constantin Film (detentrice dei diritti cinematografici) annunciò al MIPCOM che The Mortal Instruments sarebbe tornata come serie tv, con un cast nuovo.
Anche se ambientata a New York, la serie è stata girata prevalentemente a Toronto, in Canada.
Credits: https://www.comingsoon.it
Il finale tanto atteso della serie è qui. Shadowhunters termina con un episodio in due parti in cui si formano...
Continua »
Questa settimana doveva essere il season finale ma non è così anzi è un pre series finale. Jonathan ottiene la...
Continua »
Questa settimana in Shadowhunters, Jace va sotto copertura per cercare di salvare Clary da Jonathan. Hanno in programma di rapire...
Continua »